AUTOPOIESIS
29. 06. 2014
KING'S COLLEGE LONDON - ONLINE EXIHIBITION
Selected Exhibitor - Life Between Alleys; MANDIR - Visual Documentation

Autopoiesis is led and curated by Btihaj Ajana and supported by the Cultural Institute at King's College London.

This series is called MANDIR a documentation of a particular hidden tiny alley; where a small Hindu Temple is situated there surrounded by shops that sells prayer flowers and playing prayer worship songs. People walking around bare feet after a ritual of bathing. An aggressive, colorful, contrast between the modern and the traditional.

To view online exhibition
Click Here
15.03.2014 - 10.04.2014
SIKKA ART FAIR - DUBAI CULTURE & ARTS AUTHORITY
Participating Exhibitor - Hidden Jewels: 75 UAE Villages - Visual Documentation. An exhibit promoting Reem's upcoming Book - Hidden Jewels: 75 UAE Villages: A Visual Documentation
21.03.2014 - 10.08.2014
SHARJAH ART FOUNDATION
Initiated A Community Art Project - 1000 Images of Sharjah; 70 Participants - Visual Documentation

#sharjah1000 is a community outreach initiative conceived and organized by Reem Saeed, which challenged social media users to post photographs of Sharjah on Instagram over the period of one month. Seventy participants took part of the challenge, reaching the target of 1000.
75 UAE VILLAGES
30.08.2014 - 03.12.2014
SHARJAH VANTAGE POINT II
Building GH, SAF Art Spaces, Al Mureijah, Heritage Area
Selected Exhibitor - Life Between Alleys; MANDIR - Visual Documentation
OCTOBER - DECEMBER 2013
SHARJAH VANTAGE POINT I - SAF
657643.jpg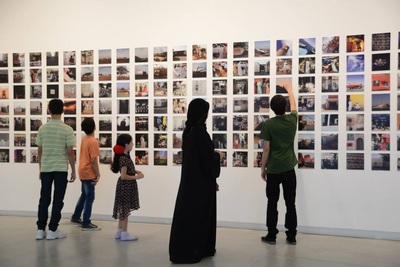 686098.jpg
9561087.jpg
9302471.jpg
8304657.jpg
6835192.jpg
6325517.jpg
6221419.jpg
4112326.jpg
1450951.jpg
1078742.jpg
DECEMBER 15TH 2014 ABU DHABI
JANUARY 15TH 2015 DUBAI
40 YEARS OF FRENCH - EMARATI PHOTOGRAPHY
Participation of two series; "Where we once played" & "Hidden Jewels 75 UAE Villages" in Al Sourat Photo Festival 2014
A photography exhibition by Institut français, the French cultural agency in the UAE. It features French and Emirati photographers who captured the spirit of the UAE between 1974 and 2014. Their works investigate the thematic IN/OUT, namely public spaces and private realms of Emirati society, showcasing its complex culture and its ever changing environment from the nation building to nowadays.
#SHARJAH 1000